Over $50 million in contracts for diverse business community... MBC making a difference
The Minority Business Consortium (MBC) is continuing to impact the business climate as they open doors to opportunities for the wide range of previously unengaged businesses. With the work done at the 49ers Levi's Stadium, Santa Clara Valley Transportation Authority (VTA), the Super Bowl 50 Host Committee over $50 million dollars in contracts have been awarded to businesses that covers the full spectrum of the diverse business in the area.
There are many companies that have been working in the field of "diversity" over the past 50 years. Some have had little success but most have left the minority, women, veteran, LGBT and other unengaged business communities far behind. The anemic business climates in the ethnic chambers attest to the dismal record of the "diversity" industry.
Walter Wilson, Partner,
Minority Business Consortium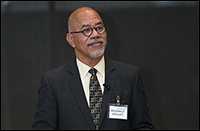 Reginald Swilley, Partner,
Minority Business Consortium
"We don't just send out emails," says Walter Wilson, partner in Minority Business Consortium, "we set up call centers, we engage these businesses… we talk to them, we find out what they need and we assist them in being prepared for the opportunities as they present themselves."
Reginald Swilley, the other partner in MBC, continue to point out that MBC works hard to open the doors to these opportunities by explaining the benefits to the local economy. He explains the benefits to the company or agency that builds, or buy products on the open market. "Levi's Stadium saved millions on one contract after our involvement" Swilley says.
When there is an open and fair opportunity for these unengaged business, and when there is some level of assistance to help them past obstacle that are unnecessarily built into these bureaucracies, the contracting environment will flourish with new ideas competitive pricing and a vibrant economic community.
Consistent access to contracting opportunities is a must for the small, diverse, women and minority contractors. As it stands, these companies cannot develop or invest with any degree of confidence: they cannot strive or thrive to their potential because the contracting environment is too volatile.
Walter Wilson says "when MBC speak s of 'contracting opportunities' we mean getting the contract, not just being at the table when it passes you by."


The Minority Business Consortium is really changing the way business is being done. MBC is bringing a conscientiousness into the equation that exposes all the elements of how and why these programs fail… and what it takes to make them work.